With every day bringing new advice and guidance, we recognise that we've had to adapt our business model to provide advice, assistance and legal solutions for our clients. Although our office premises are closed, we are operating our services as usual.
At this time we would like you to meet our solicitors and staff who are working remotely to deliver services in our usual professional and efficient way.
Fiona Sterritt – Fiona joined the firm in 2000. She is a law graduate of the University of Ulster and of the Institute of Professional Legal Studies at Queen's University, Belfast, where she qualified as a solicitor. Fiona became a Partner at HHD on 1 July 2015, having been promoted to the position of Associate Solicitor in 2012.
 She specialises in cases of medical accident/medical negligence, and she is a member of the UK group, Action against Medical Accidents – www.avma.org.uk.  Fiona has extensive experience of a wide variety of medical negligence cases, including catastrophic birthing cases, cosmetic surgery cases, dental negligence matters and misdiagnosis cases. In 2008 she was successful in a highly complex birthing case which had resulted in severe brain injury and catastrophic injury to a child, at the High Court in Belfast, which awarded a family in excess of one million pounds in compensation. Fiona was also recently successful in obtaining compensation for her client who had underwent defective hip replacement surgery which required removal and replacement surgery.
 She worked with Damian Deazley on the recent case of KD (minor) in 2014, which was the largest ever settlement in Northern Ireland of a medical negligence case, involving a child with cerebral palsy. Her other recent successful cases include those of failure to diagnose cervical cancer, delay in diagnosis of rotator cuff tear injury, negligent cosmetic surgery procedures, negligent surgery resulting in a drop foot and a MRSA case resulting in paralysis. Other cases where Fiona has been successful in obtaining compensation for her clients include negligent treatment of a lisfranc injury and negligent teeth whitening procedure.
Fiona is working with Lauren Jones and Damian Deazley in the medical negligence team assisting women with vaginal mesh litigation and also patients previously treated by Dr Michael Watt in Northern Ireland.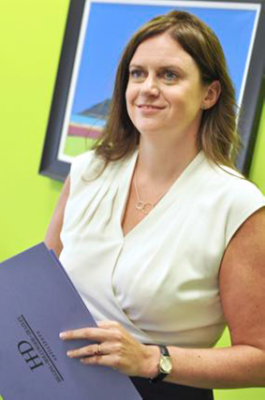 Fiona currently serves on the Law Society Contentious Business Committee and Taxation Liaison Committee on behalf of the Law Society. She has served on the committee of the Belfast Solicitors' Association – www.belfast-solicitors-association.org and is a member of the Law Society of Northern Ireland – www.lawsoc-ni.org. Fiona also guest lectured, along with Gabriel Greene of Goldblatt McGuigan Accountants, at the Ulster University Medical Law and Ethics course in 2018. At HHD we sponsor the medical law and ethics prize at the Ulster University School of Law each year and Fiona is delighted to welcome each winning student during their internship.
In recent weeks due to the Coronavirus pandemic and restrictions within Northern Ireland, Fiona has been consulting with clients, speaking with her colleagues and supporting the staff and partners remotely from her home. The photo attached shows Fiona working away in her dining room. Fiona would say that the view of her chickens at the bottom of her garden are definitely a bonus of working from home. #freerangeeggs
At Higgins Hollywood Deazley solicitors in Belfast our aim is to provide our clients with first class legal advice and sound practical support. #BusinessAsUsual
Thank you #staysafe