On Saturday 16th June 2018, we were pleased to attend the annual award ceremony held by North Belfast News at a special 'Best Fest' Party at Girdwood Community Hub hosted by Barra Best.
Damian Deazley, Partner attended the event to accept the award for 'Solicitors – Best of the North 2018', along with his colleagues Kelly Wright, Kelly Dickson, Catherine McReynolds, Charlene Dempsey, Gemma Phillips and Nan Mallett. The award was sponsored and presented by the Ulster University.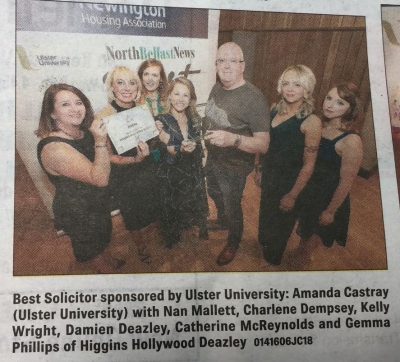 We are delighted that this award recognises our commitment to excellence in our extensive range of legal services offered to clients in a local setting.
Thanks to all our clients and to readers of the North Belfast News who voted for us!
26th June 2018