Following on from their success of being awarded 'Best of the North 2018' HHD solicitors are sponsoring this year's North Belfast News 'Best of the North' in their definitive listing of the community's finest.
HHD partner Matt Higgins has some words of encouragement for all the services, products and people listed in this year's competition, "being nominated and then winning the category for solicitors in North Belfast in 2018 was an absolute honour and we feel that it recognised the achievement of not just our fantastic solicitors but also the entire team at HHD, from our receptionist and all our administrative support staff to our book keeper and practice manager.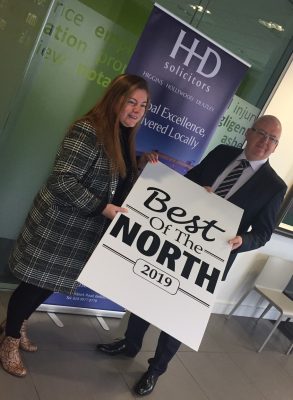 We wish all the contenders this year the very best of luck and we look forward to meeting the winners at the 'Best Fest' Celebration at Belfast City Hall on 31st May 2019."
Pictured are some of the team at HHD solicitors with Partner Damian Deazley and Christina Sloan from North Belfast News.